THE INDEPENDENT WEEKLY
Art Menius
December 1998
Will I Ever Know? is Kim's Debut CD, released June 1998. It was chosen as one of the areas best new releases of 1998 by the Independent Weekly's music critic, Art Menius.
Singer-songwriter Kim Buchanan . . . delivers an engaging performance on Will I Ever Know?. Her haunting, atmospheric vocals immediately capture the listener's attention on both the simpler arrangements and fuller folk pop pieces, while her lyrics reveal a writer in touch with nature and her own world.
Art Menius, Independent Weekly's music critic & the Associate Festival Coordinator for MerleFest


The first thing I noticed about Kim Buchanan is her beautiful voice. The opening track on her debut release Will I Ever Know? is a simple acoustic guitar-based folk song that gathers momentum as she spins the story and then fades to a whisper of wind.
She is like a fairy tale storyteller, touching on themes of love and life as well as society and cynicism and the courage to think beyond the borders of the norm with songs like "Borderline Minds," "Portraits" and "The Rain." "That Could Be Now!" is a frank statement about the reality of our view of the past -- Buchanan forces the listener to face that the nostalgia about things past and the feeling that we have somehow progressed as a society is often misplaced. Her pen turns to love on "We Belong," which almost has a Carpenters feel to it. It meanders and comes back to a simple statement of love in the chorus. She tackles the idea of personal faith in "Father & Son," which sounds like it hits very close to home.
Most of this record is made up of very folk-based songs with non-folk subject matter. Buchanan does original well; and her ethereal but strong voice suits the simple music and poetic lyrics.
[ by Rachel Jagt ]
Rambles: 4 August 2001


BORDER'S BOOKS & MUSIC
"Kim is one of our Favorites! Original soul-searching & passionate songs. She should be in the Lilith Fair"
" Kim Buchanan . . . will be well known here soon! Kim's voice is powerful & pleasing, reminiscent of Sarah McLachlan and Paula Cole. Her songs are socially aware and explore human relationships. "
Vince DeLap, Borders Books & Music, Raleigh, NC
"One of the BEST of the new crop of North Carolina female singer songwriters."
Paul White, Border's Books & Music, Cary, NC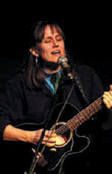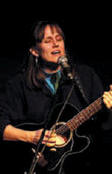 A tightly bottled potion of folk, pop, jazz, harmony and emotion, Kim Buchanan's performance with Greg Taylor on "Will I Ever Know" is truly a magical ride. Kim's voice resembles that of Paula Cole or Sarah McLachlan while her lyrics inspire vivid images of points in life we all know.
My personal favorite track came down to a neck and neck struggle between track number 5, Borderline Minds, and track 6, The Rain. I guess it's no surprise as both songs seem to have very similar moods or ambiance to them. After several listens to both songs I decided The Rain was my favorite, but only by a nose. The intro's on both songs do a fine job of setting the stage for what is to follow, without giving away story. In addition to just filling the empty space between my ears, The Rain really takes me to a place and I guess to me that's what makes a great song.
With well thought arrangements and a very clean recording and production, I could recommend this CD to just about anyone.
Marc Stephens, Localsonline


SEPTEMBER 1999, VOLUME 12, ISSUE 03
by Rob Seals
NC women featured at 'Second Wednesday'
Leigh Hilger and Kim Buchanan are two North Carolina singer/songwriters whose success in different media formats lends fine testimony to the wealth of female musical talent across our state.
Asheville's Leigh Hilger is no stranger to the Triad music scene. She studied voice at UNCG briefly as a then-homesick 16-year-old college junior, and returns to the Gate City this week in support of her debut CD Casting Shadows, currently in rotation on over 200 public and college radio stations in the U.S. and Canada.
"I've had mixed feelings about the big radio push," Hilger admits. "I think, `Why would people I've never met want to listen to me?' But I've never seen Alison Krauss, and I love her music. Radio is a way to reach people."
What reaches people instantly is Hilger's cello-like voice, jazzy guitar lines, and the vivid, intimate stories she spins. She writes songs of lyrical and melodic agility, and plants one foot firmly in the traditional, all the while aiming boldly for new ground.
"I understand how anger can alienate," she observes. "The way being a woman sculpts how I write is that I'm aware of how an angry female is perceived differently than an angry male. I try to write songs with stories so that the focus stays there rather than on the idea behind it -- that way people don't have to step back from it."
While Hilger spins gripping narratives, Roxboro's Kim Buchanan relies upon evocative abstraction and her rich alto to create intimacy with her listeners. Her debut CD Will I Ever Know was featured on MP3.com, the Internet's ground-breaking source for music. Buchanan's CD was MP3's number one acoustic release last month and among the top 65 of the thousands of recordings they chart.
"I don't think I have a sound like anyone else," she reflects, surprised and excited by the attention the Internet has brought to her music, "and I don't want to."
While her graceful, atmospheric vocals often draw positive comparisons to female pop stars like Sarah McLachlan, K.D. Lang, and Paula Cole, Buchanan cites Sting as a powerful influence, "because he's always changing and never stagnant; he's always trying to go to the next level."
This emphasis on growth and self-discovery permeates Buchanan's lyrics and keeps her moving forward, personally and professionally.
After making her living in music during her early 20s, Buchanan left the industry to start a family, yet says she feels encouraged by the growing national success of women songwriters. "Having two kids and a husband and having the chance to do what I love is a special treat. Everyone should find something they love to do and put themselves out there. There would be less conflict in the world if everyone could do that."
Hilger and Buchanan will perform a double bill of shows on Wednesday, September 8, the first at 7:30 p.m. at Borders in Greensboro (as part of the ongoing "Second Wednesday Songwriters" showcase series), and later that night at 10 p.m. at The Exchange on Tate St. in Greensboro.
Jim Graves, Host, Free Flight
91.9 FM WFSS
In 2000, Jim wrote this about "Will I Ever Know" . . .
Kim Buchanan, a performing songwriter who makes her home in Person County, North Carolina, has a view that encompasses much more than her rural home base. Her CD "Will I Ever Know?", released on her own 2911 Productions label, tackles several themes which apply to a much wider group than her Roxboro neighbors alone.

The title song, "Will I Ever Know", is a case in point. It deals poignantly with that desire and effort of lovers to try to always know what is going through the other's mind and emotions, in spite of the obvious impossibility of the task (short of ESP). She comes to realize this in the song:

"Why I blame myself, for your discomfort,
And I would shoulder all your pain
What keeps me in this screwed up game?
Will I ever know?"

She achieves an almost Spanish sound with her choice of minor guitar chords
and rhythms on this song.

In "This Could Be Now", she questions how much we really have changed for
the better in terms of urban quality of life, racism, and violence.

"Western lore reveals the tales
When the kids had guns and ale
To get known and gain respect
Life was cheap, who'll be shot next?

Are those days gone?
I might be wrong
But that could be now"

She uses a generally straight-ahead strumming technique on this song, which
works very well. She also weaves in vocal harmonies which, while pretty,
take a little of the sting out of the message.

"Portraits" is generally about how our children reflect the good and the bad
in ourselves, and should be required listening for parents considering
irresponsibility.

"I've seen their happy faces
Glowing in the sun
And it warms my heart
Knowing that's a part of me
And when the anger surfaces
And bullets fly in their eyes
It really makes me shudder
Thinking, knowing that's a part of me

Seeing the reflections of our lives on their face
They are the portraits of our lives"

This song has an almost hypnotic chord and rhythm progression, and aside
from some light harmony is almost entirely her alone.

In person Kim is, if anything, more impressive than on the CD. She has a
quality of beauty which, while undeniably present on the outside, seems even
more to radiate from within. Watching and listening to her play her songs
solo is to get a glimpse into a soul of depth and compassion, but which does
see the world very clearly and reports accurately on it. She also has a
quality in person of really committing to the lyric of the song she is
singing, a sort of leaning into it.

I consider myself fortunate to have had her in the WFSS studios first, and
fully expect to brag about this for some years. Definitely someone to check
out!

3/29/2002 playlist had this to say about Illusions. . .
Kim Buchanan has appeared on Free Flight live, and "Illusions" is her second CD. This is a lushly produced collection of songs, with violin, flute, bass, guitar, and percussion. It is a collection of moods, from sad to outraged to searching. She offers versions of "White Rabbit" and "While My Guitar Gently Weeps" here, as well as a few instrumental pieces. Very nice, and quite different from a lot of what's out there.
After my on-air performance on 4/26/2002. . .After my on-air performance on 4/26/2002. . .
Our first of two Spring membership drive/fundraiser shows was made much more fun and immediate by a visit from Kim Buchanan, celebrating the release of her second CD, "Illusions". The Person Co, NC resident has put out a group of thoughtful and insightful songs, whose music is influenced and informed by influences from around the world. Backed on most songs by percussion and violin, with touches of bass and even Scott Ainslie's slide guitar on one song, it is a recording that would be comfortable in the Acoustic, World, or New Age rack at your local record store. Kim will be hosting a CD release party on May 5th at the Six String Café in Cary, NC. Kim played a few songs live and solo, on her new Gibson guitar, Gracie, and we also played a few from the CD. Kim is a very articulate, aware, and amusing interview, has now played at the Kennedy Center in Washington, D.C., and is now planning her summer gigs. If she comes to your neighborhood, do yourself a favor and see her live.
PEOPLE ~ Rockdale
It's a family affair -
Singer's family also includes long lost musical twin

by Noreen Lewis Cochran
For one singer-songwriter, the music business is a family affair.
"It's a real soothing energy I get from him," Kim Buchanan said of her artist husband George. "My music motivates him, and his art motivates me."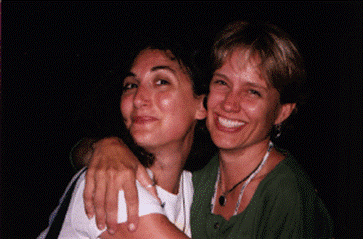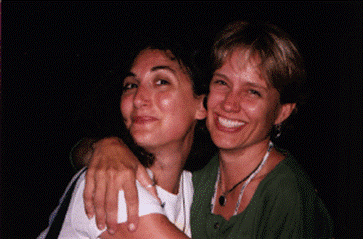 George Buchanan's artwork graces the cover of Ms. Buchanan's new CD "Illusions" Their 13 year old daughter Casey plays flute on one composition.
"Like any child, it took nine months to create from start to finish," Ms. Buchanan said. "It was a labor of love."
On Sept. 21, Ms. Buchanan brings her show from her home in North Carolina to the Java House in Conyers.
"It's such a sweet little place, and I love what Shelley's done with it," Ms. Buchanan said. " It's a listening room. It's a very intimate environment, and she makes you feel very welcome." Her show Saturday will be shared with Rachel Cross, a former member of Washington DC - based world music group Big Village. The two women met on the campus music circuit. "We gravitated toward each other, and our energy levels were the same."
They became best friends, Ms. Buchanan said, and the two physically dissimilar performers felt like twins that were separated, then reunited by life. They will join each other on stage although each has separate billing. The concept, which Ms. Buchanan said is called "Songwriters in the Round" is one staple at the Java House and one Md. Buchanan said she enjoys.
"When I know the artist can add something to my music, it is always a gift. That they're adding you might not have heard before. It's just fun."
Ms. Buchanan said putting her feelings into words and music gives her real satisfaction. Her creativity also finds purchase at www.kimbuchanan.com, a website that is a combination of autobiography, resume and jokes.
The site offers sales of "Illusions" and her 1998 release "Will I Ever Know?" recorded a year after she learned to play the guitar, her first CD received airplay in Germany, Britain, and Australia. Her first run of 1000 copies sold out.
Ms. Buchanan said she also used the CD as a calling card. Ms Buchanan's advise for singer-songwriters follows this theme of giving away a sample in order to reap greater rewards in the future. "You have to love what you do and enjoy being there and being willing to take a risk," Ms. Buchanan said.
"The Independent circuit is a lonely path. When you are open, so many more doors open for you."
Creativity and individuality are also concerns, she said. "Have fun with it and e true to yourself," Ms. Buchanan said. "Find your true voice, and if it resonates with people, it will be more rewarding for you."
VIBES | DISCOLOGY 05.15.02
Discology
Kim Buchanan
Illusions (Not Your Mama's Folk Records)
Kim Buchanan may be a wholesome- looking mother of two, but she must have had an interesting past because she's really into mystic karma, hippie trippy, floating musical moods. (She even covers Grace Slick's "White Rabbit.") Most of these 14 tracks are dreamy, wondering folk music with straightforward lyrics sung in her pure, mother-earthy voice. "What prophet ever said 'Treat the women second rate,' I hope he'll burn forever with his hate," she croons bluntly in "See Me." In one of the CD's funnier moments, she teams up with daughters Casey and Ashley on "Dress Code" to parody what must have been a memo straight out of the kids' high school. ("Your undergarments are not to be visible... unless you're a cheerleader!") Scattered throughout are instrumental interludes, including a breathtaking percussion solo and a meditative melody with spiritual minor chords. The lush arrangements include flutes and violins, and sometimes she makes the guitar sound like a sitar. Triangle fans that packed her shows after the release of her first CD will be deliriously happy when they hear this one. -- Jennifer Layton
" Buchanan... creates a mesmerizing aura with powerful yet restrained vocals over exotic-sounding music (the violin and flute complement her acoustic guitar nicely). While her original tunes are solid, her cover songs truly shine: You'd swear it was Grace Slick belting out White Rabbit, while Buchanan's take on The Beatles' While My Guitar Gently Weeps brings a motherly touch to the song's mournful message. "
Michael Hamersly, The Miami Herald, April 4, 2003
"Kim is one of the best singer/songwriters at inviting the audience to share her wonderful music and tales."
Robert Seiler, The Purple Onion, April 2003
"Kim Buchanan, a husky voiced singer-songwriter, takes her influence from Celtic sounds to psychedelia, and weaves a sort of cosmic folk. The end result is bittersweet and a touch above the army of folkies on a similar trial."
Creative Loafing - Charlotte NC- Oct. 2,2002




On the opening, title cut of this, her second CD, Kim Buchanan takes us to places of great personal uncertainty. First, we find ourselves alone on the ocean, under the full power of the wind, without a clue as to where we are going; and then, at the beginning of a road marked "Dead End," accepting it's the road we must take, even though we lack any idea where or how it will end. Oh, the gut-wrenching feeling of setting off into the unknown. It's almost as if Kim is testing her own dedication to this very project, which, considering the scope of this CD, would be quite understandable.

In the final analysis however, Buchanan has delivered a musical package that beams with soul and sensitivity. Her songwriting is smooth and fluid, with lyrics fitting the cosmic, haunting and stormy backgrounds created by equally fine musicians. The violin artistry of Michael Hsu deepens the dimension of the overall work, weaving an intensely mysterious tapestry behind Buchanan's versatile vocalizations. Her gift for interpretation is perhaps best displayed on "Speechless Peace," a contemplative, non-lyrical soundscape that gives the listener an opportunity to surrender to his or her own imagination. Originals, including "Illusions," "Inescapable Revelations," "No Heart At All," and the amusingly inventive "Dress Code" round out a mix highlighted by exceptional performances of George Harrison's "While My Guitar Gently Weeps" and Jefferson Airplane's "White Rabbit." For the most part, the production is quality is exceptional and is best appreciated with headphones on. –R.L.

"Illusions will take you right down the rabbit hole".
Reviews: Kim Buchanan ~ Illusions
Posted on Saturday, May 11 2002
Artist: Kim Buchanan
CD: Illusions (Not Your Mama's Folk Records)
Home: Hurdle Mills, NC
Style: Folk/Rock
By Jennifer Layton
If my mom were this open-minded and mystic-oriented, I'd wonder what she was putting in her Maxwell House every morning. Kim Buchanan, a wholesome-looking mother of two, is already causing a buzz up and down the East Coast and on MP3.com with her dreamy, trippy take on folk music. Her second CD, Illusions, will take you right down the rabbit hole. And I'm not kidding – she covers Grace Slick's "White Rabbit." I really wish I could have overheard her take on the "say no to drugs" talk most parents have to give their kids.
Illusions is folk rock with a psychedelic edge and a soothing, meditative effect on the emotions. It also shows off Buchanan's interesting angle on songwriting. "No Heart at All," for example, directs one verse at the co-dependent wife of a man who abuses his children:
You've convinced yourself you're righteous,
and he's shaping them with love,
but that cruel and heinous treatment
shows that he's got no heart at all.
She also shows a spirited sense of humor by teaming up with daughters Casey and Ashley on "Dress Code." She throws in another beautifully done cover song, George Harrison's "While My Guitar Gently Weeps." She croons wordlessly in the mellow instrumental "Speechless Peace."
She tries everything. "See Me" picks up the tempo a little with a shuffle-beat country groove and violin. She blends ocean sounds into the title track. Through it all, her voice resonates from the soul of a muse.
Illusions is a beautiful musical journey into a new direction for folk music. Kids, you may want to supervise your parents while listening to this one.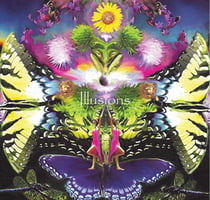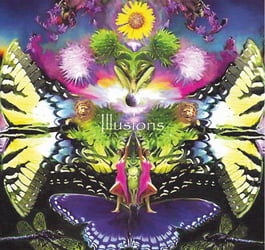 Kim Buchanan - Illusions - She does justice to both "White Rabbit" by Grace Slick and George Harrison's "While My Guitar Gently Weeps". That is a good thing. Her song writing is just as creative and thought full. That is a better thing. Her performance is accomplished and refined and expresses her feelings quite clearly... that is an even better thing. new (Added: 10-Nov-2002)


JUNE 25, 2002
Using Her Illusions
Singer-songwriter Kim Buchanan delivers a brand new album
BY DAN ARMONAITIS

Not many people get a second chance to make a first impression, but with the release of her second album, Illusions, singer-songwriter Kim Buchanan is getting that rare opportunity. While her first release, 1998's Will I Ever Know?, was full of songs that Buchanan still performs, she admits that it's hardly representative of her true sound. Thus, as a relatively still unknown artist outside folk insiders, Buchanan's latest effort is the first taste of her music for many people. The result is a lush, fully realized portrait of an artist capable of blending elements of pop, jazz, classical and rock into a very original folk mix.
While the North Carolina-based Buchanan has mostly concentrated her touring on the Southeast, she has ventured as far away as New York City and recently even had the opportunity to perform at the prestigious Kennedy Center in Washington, D.C. And her latest album, released only a couple of months ago, is already receiving a healthy smattering of critical acclaim. But it's her live show that has really sparked attention.
"I feel a real connection with the audience performing live," Buchanan says. "I like to make eye contact, and I like to have sort of the swapping of the energy when I perform. I thrive off the audience's energy. I think it's pretty crucial. I love getting to perform. I think it's a real treat. I live out in the middle of nowhere, so that's my dose of civilization."
A military brat, Buchanan was born at an Air Force base in Japan and spent most of her childhood in Europe and different parts of the United States before her parents settled in Myrtle Beach just before she entered high school. Within the liner notes of Illusions is a photo of Buchanan from her Myrtle Beach days when she was a cheerleader at Socastee High School. What sparked the inclusion of the undergarment-revealing photo was one of Buchanan's most popular songs, "Dress Code," which includes the line "your undergarments are not to be visible... unless you're a cheerleader." Because she had been a cheerleader herself, Buchanan feels she had the right to deliver the good-natured jab.
"In Person County, which is the county where my kids go to school, the song is pretty much 95 percent verbatim of their dress code," the 40-year-old Buchanan says. "And it's only half of the dress code, which is very, very long. But one of the lines of the dress code actually says, 'Undergarments are not to be visible.' And the very next line says something to the point that, 'The only exception to this policy are those who participate in athletic events (i.e. cheerleaders).' So they basically said it right there. I just condensed those two lines."
Buchanan's two daughters, Casey and Ashley, both contribute to the track, and the former plays flute on the somber instrumental "Speechless Peace," which was written in response to the Sept. 11 attacks.
"I wanted to find some way to express my emotions after 9/11," Buchanan says. "And a lot of friends had already written songs about 9/11. I sat down a couple of times, and I said, 'I feel like I'm capitalizing on something negative when I try to sit down to write this song.' But the music was very, very nice. And initially, I started putting words to it, but then I decided I couldn't say anything that was really appropriate about the situation. The music itself was very melancholy but it had a little happiness to it at the same time. It was sort of the way I felt."
Other highlights on Illusions include surprisingly effective covers of Jefferson Airplane's "White Rabbit" and the Beatles' "While My Guitar Gently Weeps." For many, tackling such classic material may have come across as a daunting task, but Buchanan was never intimidated.
"I didn't even think about their relativity in the world," Buchanan says of the two songs. "They were just very moving songs to me... It's important for people to perform songs that they really enjoy. If it's a good song, don't let that stop you."
Having performed "White Rabbit" for several years, Buchanan simply felt it was time to release a studio version.
"It's not a song that gets overkill on airplay and it's not a song that other musicians do for the most part, yet there's such a recognition for that song," Buchanan says. "People are attracted to that song in so many ways. And for me, it's very reminiscent of childhood memories. I loved 'White Rabbit' and I loved Alice In Wonderland as a child. And my mother almost named me Alice."
"While My Guitar Gently Weeps," meanwhile, was in the process of being recorded when its writer, George Harrison, passed away last November. One of the best cover versions of a Beatles' song you're likely to hear, the song is transformed into a soothing ballad that perhaps brings even more poignancy to its sad lyrical content than the original.
"My husband said, 'You know, I just really wish that George Harrison would've had a chance to hear this version. I think he would've really liked it.' And my belief is that his energy is still out there and if he chooses to hear it, he'll be definitely able to hear it anytime he wants. So I hope he appreciates what I did with it."
Critics certainly have been appreciative of Illusions in general, which is particularly satisfying for Buchanan considering that she self-produced the album at home.
"It was quite an undertaking, but it was one that I'm really glad that I had the opportunity to do myself," she says. "I have friends who've spent 30-50,000 dollars on their CDs, and I would put my CD up against theirs anytime. It's gotten really wonderful reviews. And even though it's totally self-produced, the comment I get is that it doesn't sound like a home recording. It sounds like it's been done in one of the top-notch studios... I'm very, very thrilled that I was able to pull it off because there were many times when I was concerned that I wouldn't be able to."


Kim Buchanan ~ Bringin' it Home (the innerview)
Bill: First off, who is Kim Buchanan?
Kim: I am a Gemini ... a true Gemini, dealing with many different tasks and identities at once. I am a mother, a wife, a homeowner with wonderful gardens to tend, a girl who enjoys playing with her dogs on warm summer days, and snuggling with her cats during the cold winter afternoons, listening to the howling winds outside, a couch potato after long days working on marketing her music.
BUT under this all is a musician who doesn't feel whole without the connection she has to her guitar and the peace music brings.
Bill: How long have you been doing this (music and online music), and how/why did you start?
Kim: My family traveled a lot when I was a kid, and music was a huge part of our trips. We would sing, and harmonize, and I never imagined that all families weren't sharing this as well. It was really the foundation of my love for music, and a bonding experience with my family. One that we still share.
I started performing professionally at 15 as a lead singer in a heavy metal rock and roll band. The first real gig we had, was opening for ALABAMA. It was great. . . there was an audience of several thousand, and we were a high school rock and roll band. We kicked butt. The next day, there was a huge article on us, and raves on our music, and ALABAMA ended up with a small mention. I was hooked, and music helped me pay my way through college.
After I got married, I started performing with a country rock band, and although initially I thought I would not enjoy it, I had a great time, because the audiences were fantastic. Very enthusiastic listeners who loved to listen and dance to our music. Although I was having a great time, I caught the baby bug, and my husband and I decided to try for a child. I decided to perform until I was 7 months pregnant, and then I left the stage. It was a very lonely music time for me, and I had a hard time going to see live performances. I really missed the stage.
When my first child was about 6 or 7 I bought my guitar, and started teaching myself to play. To my surprise, music I had never heard started coming through my guitar, and then words also magically appeared. Within 18 months I was in the studio recording my "promo" in order to start performing again, but it turned into a Debut CD "Will I Ever Know" instead, and was picked as one of the best releases of 1998 in our region of NC.
I have only been back performing for a little over 2 years, and am having a blast. I love the feel of connecting with an audience, and sharing my music with them.

Bill: How about some of your influences?
Kim: My music derives as much from my connection with Nature's moods and solitude, and much as any external musical influence, which include artists like Sting & Sarah McLachlan, Barbara Streisand, Heart, and Crosby, Stills, Nash & Young. I also think that traveling so much as a kid, especially around Europe, opened my heart and mind to so many cultures and styles that I hope I can expand the hearts and minds of my listeners.


Bill: Are there any other bands/artists that you feel you a similar to?
Kim: I have had some folks compare me to Sarah McLachlan, but I think that is because she too likes minor chords, and has a soothing voice. Other than that I haven't really had too much comparison. I must admit, I like that. I have a unique sound that doesn't borrow from any one person or style

Bill: If you could put a genre tag on your music overall, what would it be?
Kim: acoustic singer/songwriter adult contemporary jazzy folk pop with soul (who really knows)

Bill: I hear you, there are so many genres now, and so much debate about this fitting in to there and that fitting in here, it is very hard to come up with a "tag." Tell me about your long term goals musically.
Kim: I am looking forward to traveling and touring. I am just stretching out my wings for the first time really. My percussionist and I are heading to GA at the end of this month, and then in early May, we are going to be in MD, NJ, & NYC. We will be gone for close to 2 weeks.
I want to do international travel as well. I would like for my kids to experience life in other lands and with other people as well. I would definitely take them out of school and hire a tutor, but I think that an international education is one that cannot be beat.
I hope that I can continue to do my music full time, and make a decent living. One that will allow me to help my kids go to a good university, and have a quality life. I don't have the dreams of being the next big thing, but what ever fame or fortune does comes my way, I would welcome, embrace and share the experience with those who have helped me along the way.
We may form another band in the future, one that embraces other songwriters, and has a bigger sound. That may be in the works in several months, but for now I will focus on my immediate goals.

Bill: What are some of the projects you have going on right now, and where are you headed with them.
Kim: I am currently recording my next CD project that will be titled "Illusions." In addition to my percussionist - Jubal - and me, we are inviting some very gifted musician friends of ours to join us. I am very excited about it, and hope it will be released in the Fall. Keep your fingers crossed.

Bill: What drives you to do this? I mean is sounds like it is something you have to do.
Kim: Playing music is not an option. I tried living with out it in my life, and I was the most unhappy I can remember - not that it was a bad time, but there was a definite void. Once I embraced music again, and opened my life to its vibrations, I have been more at peace, and less confrontational, more giving and less controlling.
I will always have to be a musician, even if I am not performing professionally and recording music. I just can't imagine my life without it.

Bill: What about before Kim Buchanan (solo)?
Kim: I began performing again with another guitarist, and we worked together for a year or so, and then after we split I found the percussionist I had wanted for so long. While I do perform some solo gigs, for the most part, I am performing with Jubal. He is a one man percussion section, and the friendship and musical comradery is very good. I will always book my music as Kim Buchanan, whether I am performing alone or with numerous musicians.

Bill: What's your near future plans musically?
Kim: I need to finish the recording and begin marketing it to radio and venues. I will be in a very focused mode during the summer to complete this, so touring and gigging will be put on hold. In the immediate future we are touring through May 19, so we have some miles to put on our bodies, cars and equipment.

Bill: How do you feel about the Internet and where it is going for Indie musicians?
Kim: I cannot imagine being an independent musician without the Internet. Where else can you get international exposure and network with others who are doing what you are doing, and create that connection that independents really need. It is great for finding new venues, and building a presence.
I think that musicians do need to get paid for their art, but at the same time, I look at mp3.com and other music formats on the net like airplay. In order to get airplay like I am getting online, I would have had to pay lots of money to large corporations. I hope we will always have this opportunity of exposure.

Bill: What about for fans? How do you see the future of online music affecting the way people listen to music?
Kim: What a fantastic opportunity to get exposed to music you may have never heard! The radio stations today truly suck. They play the same songs over and over, and they are not necessarily good songs. In communities where the public stations and/or college stations don't have much power, the majority of the music gets overlooked. As a fan of music myself, I love tuning into an mp3 station and get turned on to incredible music, and am grateful for that opportunity.

Bill: What would you tell someone about your music that have never heard you to get them to go listen to it?
Kim: As many of my fans tell me, my music helps them to relax and forget the days problems. My voice is soothing and haunting, and it takes you to a place where you can breathe deep and smell the coffee . . I mean roses.

Bill: What is your favorite Kim Buchanan Song?
Kim: Borderline minds was inspired by some of the small minded folks that live in back wood communities, who fear strangers, new ideas, and new philosophies. If we could eliminate fear, the world would know peace.
Although I also am very fond of Illusions. I think it gets to the underlying question we all have about our own lives. Who are we kidding? It was also written while I was at the beach, one of my favorite places to be in the Fall. It always takes me back there.

Bill: Who is your favorite online Indie artist/musician?
Kim: A woman named Kristen Hall. She is a songwriter out of the Atlanta area, and has incredible lyrics, and soothing songs

Bill: Well, thanks for your time Kim, and best wishes all all of your musical dreams!


THE CARY NEWS
May 2, 2002
by Adam Arnold, Staff Writer
Kim Buchanan thinks covers can reveal more about her music than they hide.
The Person County-based singer-songwriter, who's having a CD release party Sunday at the Six String Cafe and Music Hall in MacGregor Village, said performing other people's songs exposes where she's coming from musically.
"It's important to put in cover tunes," Buchanan said. "I chose those two because everyone does know them. … It helps listeners put me in context, it gives listeners a sense of familiarity."
The "two" she referred to are White Rabbit, made famous by the Jefferson Airplane, and the Beatles' While My Guitar Gently Weeps. Both are on her latest release, Illusions. White Rabbit is a "second identity" for Buchanan. "Musicians like that song, so that gets requested," she said.
Buchanan pointed out her guitar is named Gracie, as in Grace Slick, who wrote the song, and that the idea of being turned upside down in an Alice-in-Wonderland world is a fitting theme for Illusions.
On While My Guitar Gently Weeps, Buchanan uses only vocal, acoustic guitar for rhythm and a violin as the lead instrument, a stark contrast to the original guitar-driven version, with Eric Clapton on lead and composer George Harrison backing.
Buchanan's starker arrangement not only avoids taking on two guitar legends but also places more emphasis on the lyrics, which yearn for love to overcome spiritual decay. "In my mind While My Guitar Gently Weeps has always been a soothing ballad," she said. "To me this is how I wanted it to sound."
There's also a third cover, a traditional folk song called She Moved Through the Fair, features an clever guitar technique leading to an impressive harmonic payoff. After tuning the guitar to an E5 chord, Buchanan put two capos at the fourth fret. While playing the rhythm with right hand, she modulates by moving one of the capos along the neck.
She's happy it worked. "I do so much by feel and intuition," Buchanan said. "I'll play some chord on the guitar and people will say, 'what is that?' and I'll say, 'I don't know.' … It's all luck."
The project is a family thing for Buchanan. An Air Force brat, Buchanan, 39, was born in Okinawa and grew up in Europe before moving back to the states when she was a teenager. In the early '70s the family modified a Volkswagen van and drove it sightseeing through Europe. "We'd sing everything from Kumbaya to These Boots Are Made for Walking," Buchanan said. "Since we're all hams in our family we all learned to naturally harmonize."
Some of that harmony will reunite at the release party. Robin Cape, Buchanan's sister and bassist, will perform along with the rest of the band, which could include Buchanan's 12-year-old daughter, Casey playing flute on at least one song.
Although not on stage, Buchanan's husband, George is also in on the act, as he did the painting for the CD cover.
Rounding out Buchanan's lineup are percussionist Jubal, violinist Michael Hsu and Scott Ainslie on slide guitar. The party may be the last show for the group, as Hsu is about to graduate from Duke Medical School and move to Seattle, Buchanan said.
Guests performing will include Meghan Cary and Sarah Pinsker.
Roxboro, NC, April 14, 2002
By PHYLISS BOATWRIGHT
C-T Staff Writer
In her new CD, Illusions, Kim Buchanan explores topics ranging from the Person County Schools' dress code to the events of Sept. 11, 2001. And in between, she demonstrates the full range of her talents with masterful remakes of Grace Slick's White Rabbit, George Harrison's While My Guitar Gently Weeps and She Moved Through the Fair, a traditional Celtic tune.
Each song contains elements of the CD's title. In No Heart At All, a song Buchanan wrote, her haunting, soulful alto voice powerfully conveys the message of child abuse with lyrics that leave no mistake about the, "societal malaise."
In the song, Buchanan states, "You've convinced yourself you're mighty and you're shaping them with love, but your cruel and heinous treatment shows that you've got no heart at all." She also asks mothers, "can't you hear them screaming in your dreams? Scared, broken and helpless, they're trapped behind these screens."
Addressing another form of illusion, in Borderline Minds, Buchanan sings, "You live with so much fear, fear of what you do not know. With emptiness inside, you'll never see how life flows."
The artist said she believes Borderline Minds is one of her most powerful songs because, "It boils it all down. Evil happens in the world because of fear. All power struggles are because of fear. The belief that you're losing yourself if you give someone else the power."
On a lighter note, but still addressing what she sees as a form of illusion, Buchanan set the recently adopted Person County Schools dress code to music. The song is apparently tongue-in-cheek, with its jazzy/bluesey cadence of, "And your pants they must be worn around your waist! We'll have no sagging pants inside the school building."
Buchanan laughs as she admits she took the dress code pretty much verbatim and made a song of it. While discussing her new CD, at times in a very serious tone, at others with a mischievous grin, she suddenly began singing the refrain from Dress Code, "Your undergarments are not to be visible, oh no no no. Your undergarments are not to be visible, unless you're a cheerleader."
She said she could use the line about cheerleaders because she was a cheerleader in high school. The cover of the Dress Code single, in fact, sports a shot of Buchanan as a cheerleader at Socastee High School in Myrtle Beach, S.C.
Buchanan said the instrumental, Speechless Peace was her response to the terrorist attacks in New York and Washington, D.C. on Sept. 11, 2001. It is an instrumental piece because, she said, any words used to attempt a description of that horrendous day would be, "trite."
Buchanan said, overall, this latest release is more mature than her first album, Will I Ever Know? released four years ago. At the time that first CD was released, Buchanan had just begun rebuilding her musical career after taking several years off after the birth of her daughters. She said the experience of touring, performing and writing steadily had led to more depth in Illusions.
Part of that touring included a show on the Kennedy Center's Millennium Stage on April 8 with Mary Sue Twohy and Rachel Cross.
Will I Ever Know? was chosen by The Independent Weekly entertainment magazine as one of 1998's best releases, and received International air play on acoustic and folk radio shows. Buchanan also received the Emerging Artist Grant from the Durham Arts Council in 1999-2000, and was a featured artist on mp3.com. Her music ranked number one on MP3.com in the acoustic genre for that period, and remained in the top 25 for close to a year.
Illusions is available in Roxboro at Trilogy on Main Street and at Janine's Hallmark on Leasburg Road.
A CD release party will be held at the Six String Cafe and Music Hall in Cary on May 5.
The singer/songwriter/musician lives in Hurdle Mills with her husband, artist George (Bucky) Buchanan and their two daughters, Casey, who plays flute on Illusions, and Ashley.
A CD that catches your attention, May 9, 2002
Reviewer: Rick Davis from USA
On May 5, Kim Buchanan had her CD release party for her new CD, "Illusions". My wife and I have been following Kim and Jubal's performances for a couple of years now, and the performance that night was one not to be missed. So when I finally got a chance to sit down and listen to her new CD, I was looking forward to seeing what she had done with it. It is no illusion that it is a great CD! I am very impressed with the quality of it - both music and recording quality.
The arrangements are well done and, of course, Kim (lead vocals, guitar), Jubal (percussion), Robin (bass and bg vocals), and Michael (violin and guitar) are each excellent musicians in their own right. But together, they are more than the sum of the parts.
The music itself shows that Kim pours a lot of heart and soul into her writing and performance. I was in a discussion recently where a friend, who is an excellent fiddle player, was describing the playing ability of a professional hammered dulcimer player she and I both know. Her comment was that he "played well" - he got all the notes and timing right. Then she went on to say that there is such a thing as "playing well", but there is also such a thing as playing with passion and heart. She thought the dulcimer player played well. Kim writes and sings and plays well, but she goes beyond that - she writes, sings and plays with passion and with heart, and that is what makes the music on this CD worth hearing - more than once.
But to leave it there would be to leave out the rest of the equation - the engineering and the production. Kim co-produced this CD with Jubal, and engineered and recorded it herself in her home studio. Being a musician myself, and being interested in recording, I was eager to hear what the quality of this DIY project was. One of the things I noticed was the mixing of the percussion and guitar in one piece to get a tolling bell sound. It was very nicely done - the type of thing I hope to be able to do when my time to record comes. Kim and Jubal did a great job producing this CD, and she did a great job engineering and recording it.
OK, so I'm using the word great a lot, but it's because this is one of the best CDs I've heard in a while! I listen to a lot of folk music, American, Celtic, Scandinavian, and have listened in the past more to Rock, Jazz, and Blues. Every once in a while, there comes along a CD that catches your attention for it's sheer elegance of production and performance and content. For me, this is one of those CDs.
Illusions Rocks the Triangle, May 9, 2002
Reviewer: Alan R. Light from Chapel Hill, NC United States
Illusions is the greatly anticipated second release by Kim Buchanan, one of the most popular recording artist in the Triangle area. From the title track to the reprise at the end, the music is written and arranged in a style that just cannot be attached to existing genre's. The best description is Rock with a folk edge, or maybe vice versa! The concentration here is on music with memorable melodies and oh, that voice! It's strong, sweet and perfect at the same time! A number of the tracks, including the title track, "Illusions" are beautiful in the pictures they paint with both the melodies and the lyrics, but others like See Me and High Anxiety will throw you back in your seat. Then there's the hilarious "Dress Code" taken directly from the dress code at a local middle school! What a great piece of satire of our modern hypocrisy!! You must listen to this and play the whole thing over and over!!